Learning does not end when school lets out. Neither does the need for good nutrition.
**All students in attendance during summer school from June 14th-June 24th will come home with 1 day's worth of food, consistent with current practice.**
Any other children aged 1-18 may pick-up 7-day meal boxes at Alpine Vista K-8 School, the Central Kitchen, Kohn Elementary, Los Tules Middle School, and Mulcahy Middle School on Wednesday June 9th, June 16th, and June 23rd from 11:30am-12:30pm. In addition, Maple Elementary and Wilson Elementary will also offer 7-day meal boxes on Wednesday June 16th and June 23rd.
Children do not need to be present to receive these grab-n-go meal boxes. The student's first and last name and school of residence, if any, will be needed to provide meals. As a reminder, for the safety of staff, students and the community, please open your trunks for meals to be placed into. If walking up, please wear facial coverings and social distance.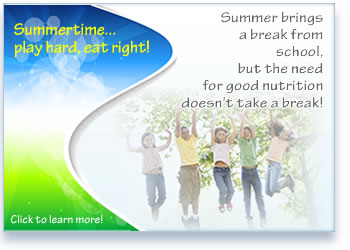 Good nutrition is essential for learning in school. Continuing healthy eating habits is also important during the long hot summer months. Eating nutritious foods helps ensure students retain their hard learned knowledge… and to help them to keep right on learning throughout the summer. For many of these children, summer vacation can bring the temptation of eating empty calorie snacks and foods that are high in sugar, fats and sodium. And for many others, summer exposes students to an increased risk of hunger and developmental decline. Make seasonal fruits and vegetables a high priority for your snacks, meals and anytime.
Summertime is a time to play hard...but it is also a time to remember to eat right. Make sure good nutrition remains a priority all summer long, and students will return to school in the Fall healthy, sharp and ready to learn.